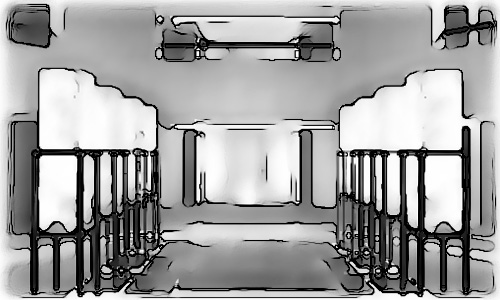 I was lounging around, doing little or nothing as is my wont, when an email from Larry arrived in my inbox. It was short and sweet. 'Larman, old boy. Trip to the Far East. Hong Kong, Beijing. See the sights, stay in some fabulous hotels, and eat a lot. You game?' It was possibly the easiest invitation I've ever said 'aye' to in my life, despite the worries of the Lady, who expressed concern that I'd end up making a fool out of myself over a geisha girl. I was able to put her doubts to rest. 'That's Japan. Not even sure that they know what a geisha is in Hong Kong.'
So, a couple of weeks later, I was bound on an easterly flight on Cathay Pacific, who lived up to their stellar reputation with a comfortable and relatively easy journey, although I fear that a comfortable night's sleep on a long-haul flight is a Holy Grail that can only be reached with Zen-like patience and determination, or maybe Xanax. Nonetheless, arrival at the airport saw a seamless transfer to my first destination, the Upper House.
Currently ranked by TripAdvisor as the city's finest hotel ('We don't like to set much store by these things', grins Michelle, the communications manager, 'but it's certainly very nice'), everything about this rather divine Andre-Fu designed spot radiates a sort of easy peace and calm, from the sumptuously appointed studio bedrooms that are larger and rather more comfortable than the average London flat to the beautifully decorated public spaces, not least the Sky Lounge on the top level with breathtaking views over the skyscrapers around and the stunning floor-spanning atrium, complete with genuinely tasteful modern art that stimulates the senses, rather than overwhelms them. Service is perfect, offering just the right combination of friendliness and efficiency, and the minibar is free, save for the fine wines and champagne offered. I could warm to life here, I thought as I sank onto the absurdly comfortable bed for a quick pre-dinner nap.
And, oh my, dinner here is something worth getting up for. Eschewing lazy 'pan-Asian' clichés, the menu here, supervised by Gray Cunz (hence the name of the restaurant, the Café Gray Deluxe) is a thrilling mixture of American, European and Eastern influences. An appetiser of butternut squash soup and sweet potato pierogie is complemented by applewood smoked foie gras, followed by red rice crusted lobster and tea-smoked organic chicken. The fine wines accompanying each course are delectable – the Franck Bonville Cuvee Prestige champagne, previously unknown to me, was an especial highlight – and, after a scrumptious passion fruit omelette soufflé, I retire to bed, replete, to shake off the last of the jet lag and prepare for a foray into Hong Kong proper the following day.
After a splendid American-influenced breakfast to set the day up (the 'Upper West' option – there are plenty more, roughly according to Asian, healthy and minimalist), I journey into the centre of the city to resume my mission of expanding my belt a couple of notches, by visiting the new bistro Plat du Jour. A rather self-conscious attempt to recreate a classic French establishment, albeit in the setting of a café, it got points for its faithful execution of the sort of dishes that you'd find in any self-respecting backstreet Parisian brasserie (escargots, steak au poivre), but lost them again for the absence of a wine list. ('No liquor licence', apparently – in HK, this is an occupational hazard, with places having to wait up to six months before one is granted.) Thence round the markets and bazaars of the city, via the Wong Tai Sin Temple, where I had my fortune told in a bizarre ritual involving much palm-crossing with silver. Apparently, 2014 is going to be 'a big year, with much change.' That's me told.
The first properly Cantonese place that I dined in was the famous Under Bridge Spicy Crab. (Somewhere, a grammarian is mourning the lack of a comma). Ironically, the spicy crab is probably the least interesting thing in the smorgasbord of delights we sampled, with a succulent platter of roast meats and a clam broth that wouldn't disgrace a Michelin-starred establishment the highlights. Service is of the brusque but efficient variety; English is hinted at, rather than spoken. To cool my head and fire my heart thereafter I headed off in search of the much-heralded pubs of the city, finding a particularly fine example in The Globe, which, when you get past the unappealing draft selection (Old Speckled Hen is highly thought of here) offers some excellent beers by the bottle at relatively wallet-friendly prices.
Wandering round the streets of Hong Kong, by day or not, the impression given is that of a place in flux. There's a strong European (if not American) element, with English as widely spoken a language as Cantonese, and the likes of Marks and Spencer and Harvey Nichols selling their wares as if we were in an upmarket British city. Set against this, the impression is of a hugely cramped place, with thousands of tiny apartments, especially in Kowloon, where the rather dismal spectacle of washing being hung outside a window is de rigueur. As a city, the resemblance is less with New York – a comparison often made – and more with Dubai, if that city had an ounce of the class and style that this one has. One hopes it might, one day, but holding one's breath seems a bad idea.
At last, it's time to head off on the second leg of the adventure, but first a stop at the 'traditional tea house', Luk Yu (yes, and luk you too), where I'm fed a bewildering variety of dim sum at far too early an hour, and where the highlights (perfect char siu buns; delectable green tea; succulent shrimp dumplings) easily outnumber the more 'eh?' dishes on offer. (I'm sure I ate tripe, although it's described as beef.) Then it's off to the airport, for a rather different and less obviously Western-friendly experience. Beijing awaits!
The Arbuturian travelled with Heathrow Express – saver express return from £34 at www.heathrowexpress.com. Stay at The Upper House from HKD 4,800 per night in a Studio 70 room, excluding 10% service charge and room only. www.theupperhouse.com Cathay Pacific flies five times daily between London and Hong Kong with connecting flights to over 170 destinations worldwide, including 22 in China.
To book flights, visit cathaypacific.co.uk